Carlson Kids Super Daily D3 Drops- 400 I.U of Vitamin D3, 365 drops
Carlson Kid's Super Daily D3 provides 400 IU of vitamin D3 in one convenient flavor-free drop. The American Academy of Pediatrics recommends that all children receive 400 IU of vitamin D3 daily. Unfortunately, most kids don't receive enough vitamin D from sun exposure or their diet to reach the recommended daily intake. Place one drop directly on the tongue, or add it to your child's favorite food or drink.
• Promotes healthy growth and development
• Supports teeth, bone, and muscle health
• 400 IU of vitamin D in each drop
• Unflavored with no aftertaste
• Potency and quality guaranteed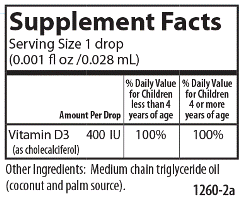 Product Rating
Customer Reviews
There have been no reviews for this product.
Add your review here