Carlson for Kids Chewable DHA,100mg.DHA, Orange flavor,120 chewables
Carlson Kids Chewable DHA, 120 chewables is a fun and tasty way to provide your children with the nourishing benefits of DHA Omega-3 oil, which promotes healthy brain development and vision in growing children. Kid's Chewable DHA is a fun and tasty way to receive these benefits. Each soft gel bursts with delicious orange flavor from natural fruit sources. And like all Carlson omega-3s, freshness, potency, and purity is guaranteed.
• Supports healthy brain and vision function and development
• 100 mg of DHA in a single chewable soft gel
• Delicious, natural orange flavor
• Freshness, potency, and purity guaranteed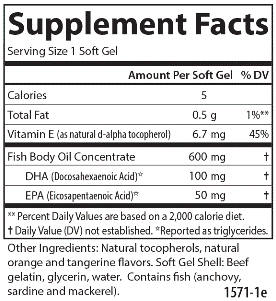 Product Rating
Customer Reviews
There have been no reviews for this product.
Add your review here