Oxylent Daily Sparkling Multivitamin Drink- Variety Pack, 30 packets
Oxylent Daily Sparkling Multivitamin Drink- Variety Pack, 30 packets is an award winning, 5-in-1 daily refreshing sparkling multivitamin drink that delivers vitamins, minerals, electrolytes, amino acids and antioxidants with easy absorption. Add one packet of Oxylent to water and enjoy!
Sparkling Berries - 10 packet
Sparkling Mandarin- 10 packet
Sparkling Blackberry Pomegranate- 10 packet
Oxylent 5-in-1 Benefits:
Vitamins A, C, D3 & E
Contains Methylated Folate & B12
Albion® Chelated Minerals
Antioxidant Superoxide Disumtase (SOD)
30 individual serving packets—great for traveling or when on the go
No gluten, dairy, caffeine, GMOs or sugar—sweetened with pure stevia
Superior multivitamin & mineral content, with a full spectrum of essential nutrients†
Contains Methyl Folate as 5-MTHF, the most biologically active form of folate†
Albion® Chelated Minerals offer better absorption than common minerals†
Antioxidant SOD works synergistically with secondary antioxidants such as vitamins C, A & E†
Optimal bioavailability via effervescent delivery†
Recommended for People who:
Either have difficulty digesting or are tired of swallowing pills
Are looking for a natural energy boost from pure nutrients†
Want a full spectrum multivitamin with primary and secondary antioxidant support†
Are students, travelers, athletes, seniors, have diabetic health issues – everyone!†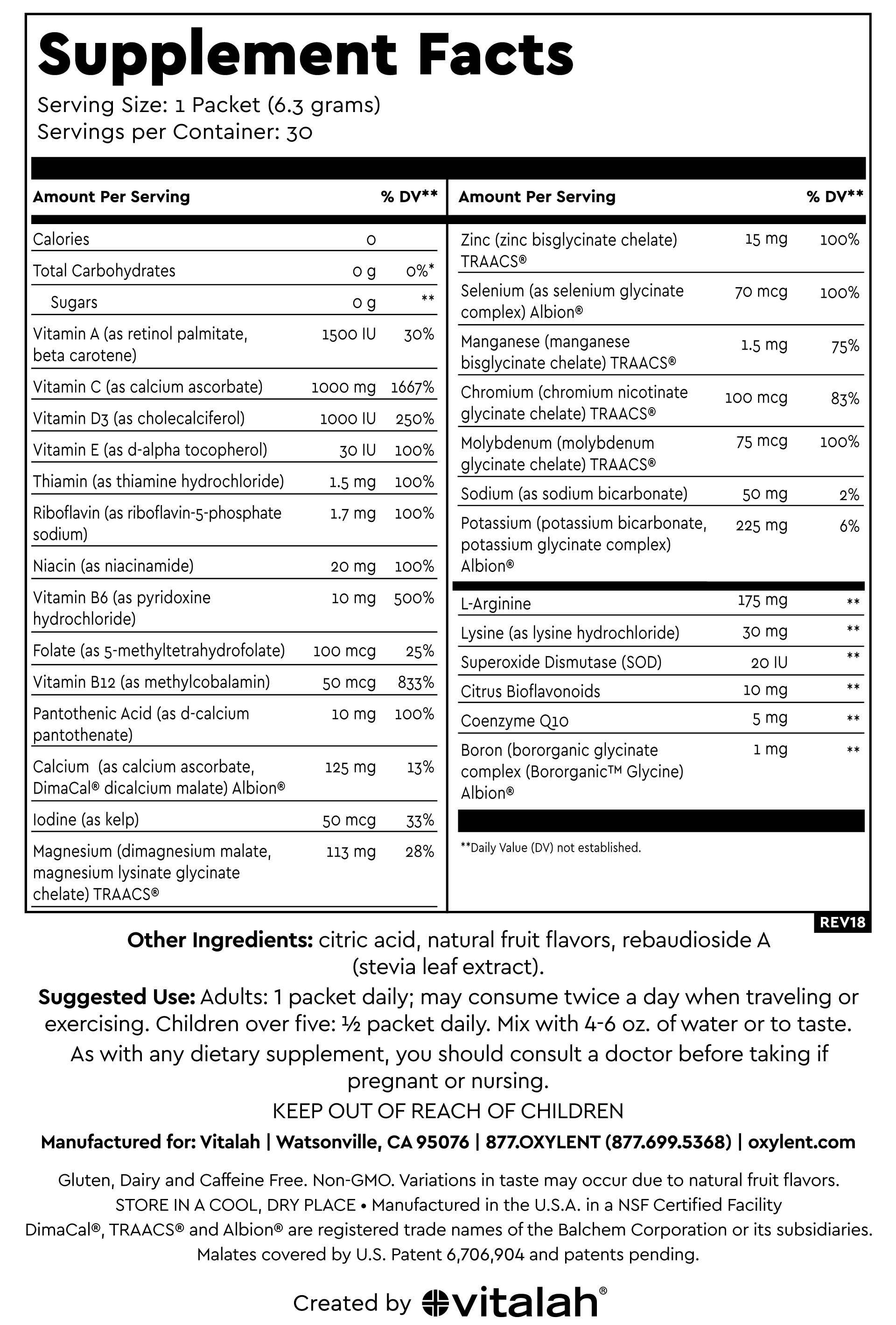 Product Rating
Customer Reviews
There have been no reviews for this product.
Add your review here